The 9th Annual Maritime Security West is the thirty-second maritime security program hosted by Homeland Security Outlook since 2011. Maritime Security West furthers a commitment to address the needs of federal, state and local agencies, law enforcement and military to counter the challenges of securing coastlines, inland waterways, ports and critical infrastructure. With it's proximity to the U.S./Mexico border, the program will also address cross border collaboration and information sharing.
Maritime Intelligence-Integration Office (NMIO)'s MDA ESC Excellence Award to be presented at Maritime Security West
In support of the stated goals of the National Maritime Domain Awareness Plan (NMDAP), the National MDA Executive Steering Committee establishes an annual national level maritime domain awareness award program "MDA ESC Excellence Award" to recognize exemplary stakeholder members of the Global Maritime Community of Interest (GMCOI), whose accomplishments have made a significant contribution to improving the effective understanding of the maritime domain in the United States and its territories. This includes the US Federal interagency, US Intelligence Community (IC), state, local, tribal, and territorial law enforcement agencies, international partners, academia, and maritime industry.
SOme of our ConFirmed participants
California Governors' Office OES



Federal Bureau of Investigations
Long Beach Police Dept.

Los Angeles Port Police



Los Angeles County Sheriff's Department

Marine Exchange of Southern California




Maritime Coordination Center




MITRE Corp




National Maritime Intelligence-Integration Office




Naval Information Warfare Center Pacific




Naval Surface Warfare Center



Orange County Sheriff's Department

Port of Long Beach




Port of San Diego




Port of San Diego Harbor Patrol



U.K. Joint Maritime Security Centre

U.S. Air Force, Joint Task Force North
U.S. Army, Joint Task Force North
U.S. Border Patrol
U.S. Coast Guard Blue Technology Center of Expertise (BTCOE)
U.S. Coast Guard HQ

U.S. Coast Guard Sector San Diego

U.S. Customs and Border Protection


U.S. Customs and Border Protection Air and Marine

Operations

U.S. Dept. of Homeland Security

U.S. Dept. of Homeland Security Countering Weapons of Mass Destruction (CWMD)

U.S. Global Maritime Operational Threat Response Coordination Center (GMCC)

U.S. Marine Corps, Joint Task Force North

U.S. Navy Region Southwest

University of California at Berkeley Center for Catastrophic Risk Management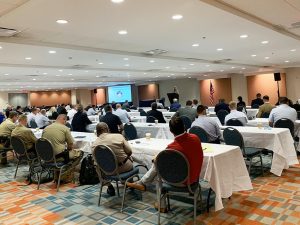 Attend
Explore a comprehensive and exciting exhibit hall full of the latest products and solutions to help you meet your challenges as well as attend insightful presentations and educational workshops. If your job is maritime/port security or maritime defense or response, you have to be here.
Exhibit
Whether you build boats, provide radars, maritime domain/situational awareness software or products, make the most of your time and energy by placing your company and solutions in front of professionals who are serious about their missions in securing their AOR or responding to maritime threats and incidents.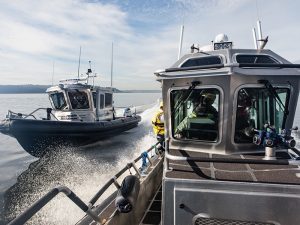 Experience
Witness boats and technologies in their operating environment. Take boat rides on demo day and experience their capabilities. See how radars and cameras provide real maritime domain awareness of the waterways and coastlines. There is no better way to educate yourself on the products unless you experience it first hand.
Learn, Discuss and Collaborate
Keynote Sessions, Panel Discussions and Workshops
Topics To be Addressed
Port Security
Coastal Surveillance
Critical Infrastructure Protection
Cyber Security
Maritime Border Security
Marine Law Enforcement
Maritime Domain Awareness
Information Sharing and InterAgency Collaboration
Response Boat Acquisition, Operations and Training
Join US on for live Demonstrations and Displays

On March 14th from 3:00-5:00 at the Sheraton
Saildrone: Explorer Unmanned Surface Vehicle
The Saildrone Explorer is a 23-foot uncrewed surface vehicle (USV), powered primarily by renewable wind and solar power, giving them a minimal carbon footprint. Equipped with a payload of metocean sensors and 360º cameras with machine learning-enabled target detection and near-real-time user notification, Saildrone Explorers are designed to make ocean intelligence cost-effective at scale. Saildrones operate 24/7/365, without the need for a crewed support vehicle, and have sailed 750,000+ nautical miles from the Arctic to the Antarctic and spent 17,000+ days at sea in the harshest ocean conditions on the planet.
Iguana Pro Extreme Purpose Interdiction Amphibious Craft
Iguana Pro USA- All-terrain Amphibious Boats are not only robust but, it is the only 9-meter amphibious vessel in the world. They are composed of high-tech functionalities, performance and capabilities. High speed and all-terrain, Iguana boats' un-matched capabilities allows law enforcement, search and rescue and military users to launch quickly and reach their target at high speeds even in harsh sea or on difficult terrain. Our mobility system allows Our arm forces to protect and serve our country on land and sea. Which makes the Iguana Pro 29 a Extreme-Purpose-Interdiction-Craft.
Bertin Technologies: Second Sight Chemical Detection
Second Sight MS is the only standoff gas cloud detector for real time surveillance and with source localization.
Jenoptik Speed and Surveillance Trailer
LPR Technology allows local law enforcement agencies to recover an average of 25 vehicles per month as a result of:
Actionable hotlist alert notification within 3-5 seconds to your smartphone or email.
Solar trailer field runtime of 6+ month without a recharge.
Hot list alert & image directly to your smartphone.
Arrest by appointment with the Intercept Report.
Data sharing is a given not an option at no cost/fee ever.
Mature and robust back office software with powerful analytics.