The 9th Annual Maritime Security West is the thirty-second maritime security program hosted by Homeland Security Outlook since 2011. Maritime Security West furthers a commitment to address the needs of federal, state and local agencies, law enforcement and military to counter the challenges of securing coastlines, inland waterways, ports and critical infrastructure. With it's proximity to the U.S./Mexico border, the program will also address cross border collaboration and information sharing.
Calling for Nominations for the National Maritime Intelligence-Integration Office (NMIO)'s MDA ESC Excellence Award to be presented at Maritime Security West
Do you or your agency have someone they would like to nominate for the Law Enforcement – MDA ESC Excellence Award that RADM Copley can present to a worthy recipient at the MSC West conferences? This would be a local enforcement person or intelligence analyst/entity that you feel has contributed to maritime domain awareness. If so, please Click Here to submit your nomination by 16 February.
Award Background:
In support of the stated goals of the National Maritime Domain Awareness Plan (NMDAP), the National MDA Executive Steering Committee establishes an annual national level maritime domain awareness award program "MDA ESC Excellence Award" to recognize exemplary stakeholder members of the Global Maritime Community of Interest (GMCOI), whose accomplishments have made a significant contribution to improving the effective understanding of the maritime domain in the United States and its territories. This includes the US Federal interagency, US Intelligence Community (IC), state, local, tribal, and territorial law enforcement agencies, international partners, academia, and maritime industry.
Make your nomination today, to recognize those partners that stand out among their peers, for the Excellence in Maritime Domain Awareness. It's time to be recognized!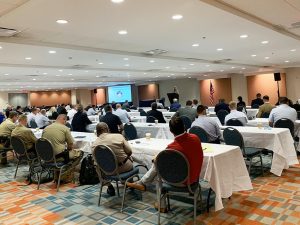 Attend
Explore a comprehensive and exciting exhibit hall full of the latest products and solutions to help you meet your challenges as well as attend insightful presentations and educational workshops. If your job is maritime/port security or maritime defense or response, you have to be here.
Exhibit
Whether you build boats, provide radars, maritime domain/situational awareness software or products, make the most of your time and energy by placing your company and solutions in front of professionals who are serious about their missions in securing their AOR or responding to maritime threats and incidents.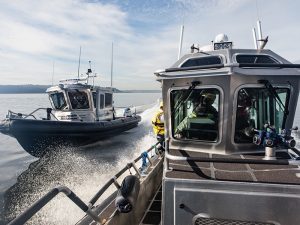 Experience
Witness boats and technologies in their operating environment. Take boat rides on demo day and experience their capabilities. See how radars and cameras provide real maritime domain awareness of the waterways and coastlines. There is no better way to educate yourself on the products unless you experience it first hand.
Learn, Discuss and Collaborate
Keynote Sessions, Panel Discussions and Workshops
Topics To be Addressed
Port Security
Coastal Surveillance
Critical Infrastructure Protection
Cyber Security
Maritime Border Security
Marine Law Enforcement
Maritime Domain Awareness
Information Sharing and InterAgency Collaboration
Response Boat Acquisition, Operations and Training
Be in the Middle of the Action
Southern California is Home To…
U.S. Coast Guard Sector San Diego and Sector LA/LB
Port of San Diego
Port of Long Beach
Port of Los Angeles
Dozens of Public Safety and Law Enforcement Agencies
A Very Large CBP Air and Marine Operations Presence
Federal, State, Local and Tribal Agencies and Governmental Organizations
Foreign Government and Military
Port Security Directors and Managers
Private Terminal Facility Security Officers
Government and Military Contractors
Products and Solutions Providers
Department of Defense Components
Department of Homeland Security Components
Department of Justice Components
Federal, State and Local Law Enforcement and Response Agencies
Department of Homeland Security Vessel Operators and Buyers
Government Contractors
System Integrator
Boat Builders
Responders Gear and Outfitting
Vessel Maintenance Contractors
Engine Vendors