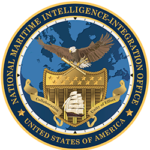 CDR David N. Savery
Science and Technology Deputy Department Head
National Maritime Intelligence-Integration Office
---
Commander's military service began in 2002 upon graduation from the U.S. Naval Academy (USNA), Annapolis, MD. At USNA, he received a Bachelor's of Science in Mechanical Engineering. Following graduation, he entered flight school, receiving his Naval Aviator wings in 2004. He entered the P-3C Orion community and was stationed at Patrol Squadron 26 in Brunswick, Maine in 2004. Following redesignation and training as a Naval Intelligence officer in 2007, he completed a deployment to the Joint Intelligence Operations Center – Afghanistan in 2008. He was also stationed at the Farragut Technical Analysis Center, 2008-2011, the Kennedy Irregular Warfare Center, 2011 to 2014, deploying to Afghanistan twice with separate Joint Task Forces, served as a desk officer at the Defense Attaché Service at the Defense Intelligence Agency, 2015-2018, and served on the Defense POW/MIA Accounting Agency's Underwater Team from 2018-2021.
His current assignment is Science and Technology Deputy Department Head at the National Maritime Intelligence Integration Office.
He has completed his Masters of Strategic Intelligence at the National Intelligence University.