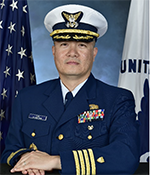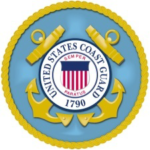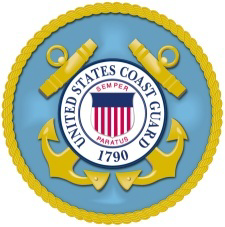 Captain Taylor Q. Lam
Commander, Sector San Francisco


United States Coast Guard
---
Captain Lam assumed command of Sector San Francisco in June 2021. As Commander, Sector San Francisco he leads nearly 620 Active, Reserve, and Civilian Coast Guard men and women operating three Cutters, seven Small Boat Stations, an Aids to Navigation Team, a Vessel Traffic Service, and a Marine Safety Detachment in addition to more than 1,000 Coast Guard Auxiliarists. His area of responsibility spans from the Oregon border to the San Luis Obispo County line as well as much of Nevada, Utah, and parts of Wyoming, and includes over 2,500 miles of shoreline within the San Francisco Bay and its tributaries.
Duties and responsibilities of Sector San Francisco include Captain of the Port, Federal On-Scene Coordinator, Officer in Charge of Marine Inspection, Federal Maritime Security Coordinator, and Search and Rescue Mission Coordinator.
Captain Lam is a native of Riverside, CA and enlisted in 1996 through the College Student Pre-commissioning Initiative (CSPI) and graduated from Basic Training in Cape May, NJ. Upon completion of his undergraduate studies, he graduated from Officer Candidate School in 1998 at New London, CT.
He recently completed an assignment as a national security fellow at the Belfer Center for Science and International Affairs at the Harvard Kennedy School of Government. In this senior service school program, he researched how the U.S. marine transportation system's resiliency could be improved given challenges associated with the novel coronavirus pandemic. While in command, Captain Lam is also a cohort member of the Naval Postgraduate School's Center for Homeland Defense and Security (CHDS) Executive Leadership Program in Monterey, CA which is slated to conclude in August of 2023.
Captain Lam's previous operational units include service as Deputy Commander of Sector Boston, Commanding Officer of Maritime Safety and Security Team (MSST) Los Angeles – Long Beach, Command Center and Enforcement Chief at Sector Miami, Detachment Officer-in-Charge (OIC) and plank owner of MSST Seattle, Law Enforcement Detachment OIC at Tactical Law Enforcement Team North, and Deck Watch Officer aboard USCGC MUNRO (WHEC-724).
His previous staff and advanced education assignments include service as Special Assistant to the 30th Vice Commandant, Coast Guard Fellow in the late U.S. Senator Thad Cochran's personal staff addressing homeland security appropriations, the Atlantic Area Commander's staff managing six MSSTs, and attending the College of William and Mary's Master of Public Policy program.
He is a 1998 graduate from the University of California, Riverside, earning a Bachelor of Arts degree in psychology, a 2005 graduate from Boston University's Master of Arts program in criminal justice, and a 2011 graduate from the College of William and Mary's Master's program in public policy. His personal awards include three Meritorious Service Medals, four Coast Guard Commendation Medals, Department of Transportation 9-11 Medal, Commandant's Letter of Commendations, and other Service awards.