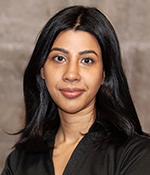 Sampriti Bhattacharyya

CEO and Founder
Navier
---
Sampriti Bhattacharyya, CEO and Founder of Navier, has a PHD from an MIT in Mechanical Engineering specializing in ocean robotics. Her work encompasses fundamental advances in hydrodynamics, and she holds several patents in the field.
Prior to MIT, she contributed to intelligent flight control systems at NASA and worked on a groundbreaking nuclear reactor design at Fermilab. She holds an undergraduate degree in Electrical Engineering and a Masters in Aerospace Engineering from The Ohio State University. As a research fellow at Tata Institute of Fundamental Research (TIFR) and through renewable energy projects funded by the Indian Department of Science and Technology, she gained valuable interdisciplinary experience.
Sampriti Bhattacharyya's expertise extends to frontier tech like robotics, AI, and large data-driven systems, with a keen focus on the maritime space. Her remarkable achievements have earned her prestigious accolades, including Forbes 30 under 30 and Robohub's 25 Women in Robotics. She has spoken at prominent conferences like Forbes Under 30, CERAWeek, TTI Vanguard, Oceans Conference, and Techcrunch. Furthermore, her invention, the Hydrone, has been recognized by the Senate Invention Caucus and is displayed at the Victoria & Albert Design Museum in London as one of the top 100 projects shaping the future. Sampriti Bhattacharyya is an avid advocate for women in STEM fields and was honored with MIT's most outstanding mentor award in 2016. Her remarkable journey is featured in the book "Female Innovators at Work: Women on Top of Tech" alongside other influential leaders.